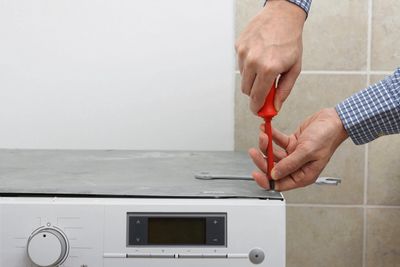 We Will Fix Your Dryer!
Has your residential dryer broke down on you and you need a dryer repair as soon as possible? If so, thank you for visiting our webpage for dryer repair NYC. We have dryer repair specialists for local New York City residents. We repair in all major appliance products and brands. We offer professional and local appliance repair and service for GE repair. Many folks these day have a GE appliance product and are very happy with it. GE stands for General Electric and they have been an industry leader for a long time. We are please to help local residents with their GE repair. We offer same day repair on your GE repair. We make it easy for you to call our customer service department and schedule an appointment for a GE repair near me.
Kenmore Repair
Kenmore repair in New York is vital if you're a NYC resident and need a repair for your Kenmore dryer. Have you realized that your life 'suddenly stops' when at least one of your essential appliances breaks down on you. It's a saying that resonates with a lot folks that rely on efficient appliances for their day-today life. Kenmore is an appliance brand that many NYC residents use to dry their clothes after the was. It's known as a quality product and has been one of the leading appliance brands in sales for the past couple years. We have trained appliance repair technicians that will be able to offer a professional repair on your Kenmore repair today. Call us if you have any questions about your appliance. All our service calls are free with repair.
Should you Replace or Repair Your Dryer
There are some places where a broken dryer wouldn't be a big deal, people could simply hang their laundry out to dry until they got the appliance fixed. NYC isn't such a place. With the dense air pollution we have to deal with, the by the time your clothing dried, they would also be very dirty. In this town, when your dryer stops working properly, you have three options. You can either go to the expense of purchasing a brand new dryer, you can start hauling your clean but wet clothes to the laundry mat, or you can have your dryer fixed.
The easiest, and in the long run, most affordable option will be making arrangements to have your dryer repaired by Appliance Repair NYC.
When we created our family run business, we didn't want to be just another appliance repair company in NY, we wanted to be the best, and we've succeeded. Unlike some companies that try to make it to the top via cheap gimmicks and scams, we've done it the old fashioned way, through good prices and top quality service. Our hard work paid off. Our customers know that we'll get their dryer repaired in no time at all.
Everyone has their own schedule. Some people do their laundry first thing in the morning, others do it in the middle of the night. We don't really care when you need the appliance, we feel you should be able to call us as soon as you've discovered there's a problem, which is why we have a customer service support person with a strong knowledge of dryers ready to answer the phone at all times of the day and night. They will listen to the problem. Based on the information you provide, they will try to make an over the phone diagnosis, and then set up a time for one of our dryer repair technicians to come to your home or place of business to handle the repairs.
The first way that we ensure every repair we do is top quality is by making sure every single dryer repair technician on our payroll has a great deal of experience, a solid sense of professionalism, and who have been completely factory certified. Every single Appliance Repair NYC has the ability to quickly diagnose a dryer's problems, before quickly and accurately making the repairs. While making the immediate repairs they will also examine your clothes dryer and alert you to signs that you could experience problems in the future. As a result of the care we've used to put together such a great dryer repair team, we are capable of repairing any make and model of dryer including, but not limited to:
Kenmore
Whirlpool
Maytag
Sears
Montgomery Ward
Having a wonderful team of reliable and talented repair people helps ensure that each repair handled by Appliance Repair NYC is good, but that's only part of the equation. The person handling the repair can only be as good as the tools they're working with. We learned if we wanted to make top notch repairs, we were going to have to make sure our techs were equipped with the best possible replacement parts. This is why, unlike the completion, we don't use cheap parts, but instead go straight the manufacture and get the parts best suited for your particular make and model.
Between the talent of the dryer repair technician, and the quality of the parts used, you can reasonably expect the repair to last for a long time.
When it comes to dryer repair, there's not a project that's too large or too small for us to handle. We routinely handle all types of dryer repairs including:
Overheating dryers
Broken settings dial
A settings dial that has broken
grinding, rattling, bumping, and squeaking sounds which could indicate serious problems
machines that have become unstable and wobble while in use
Dryers that aren't getting clothing completely dry, even after several cycles.
Dryers that are eating clothing
Strange odors
malfunctioning display
poor or excessive power use
Broken mechanisms
faulty lint tray
We strongly encourage the business owners and homeowners of New York City to not simply think about Appliance Repair NYC when they experience severe dryer problems. We feel your life will be less stressful if you think of us on the days when your dryer is working well and set up a maintenance appointment. During this appointment one of our highly qualified techs will come and give your dryer a good going over. What they will be looking for is signs of wear and tear which could indicate future repair issues. After they have finished, you can decide if you want to address the situation right then, or if you want to wait a little while. Routine maintenance work can extend the life of your appliance, while also maintaining energy efficiency.
No matter what problem you might be experiencing with your dryer, we urge you to give us a call. By connecting with Appliance Repair NYC sooner rather than later you will decrease the chances of doing additional damage to your appliance, and will at least be able to come up with an idea of what you're dealing with.